Our staff's commitment to you
Our staff is committed to providing support, compassion, information, and direction as needed to all members of our community, their families, and friends who are dealing with loss and grief.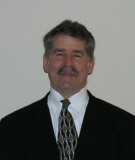 John A. West II
Funeral Director/Embalmer - Owner
John West is a native of Jessamine Co., a graduate of Sayre High School and Kentucky School of Mortuary Science. John received a certificate from The Life Appreciation Institute, training funeral directors to conduct services incorporating ideas designed to recognizing each person as a unique individual.
Betts & West Funeral Home